---
Franklinville was established
1847
---
---
How to contact us:
Town Hall Hours
Mon.-Tues.-Thur-Fri:
9:00am-5:00pm
Wed.: 9:00am-12noon

Town of Franklinville
163 West Main St
P.O. Box 277
Franklinville, NC 27248
Regular Meetings:

The Franklinville Board of Commissioners meets at
7:30pm on the 2nd Tuesday of each month at Town Hall.

The Franklinville Planning &
Zoning Board meets at 7:00pm on the 4th Tuesday of each month.

Franklinville Public Library

336.824.4020
Hours: Sun. - Fri.: 2-6pm


Visitor Counter


Last Updated: 05.12.2015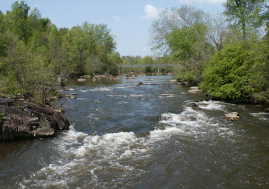 Franklinville, North Carolina established in 1847 is an idyllic former textile mill village located on the banks of the Deep River. Centrally located in North Carolina and Randolph County, Franklinville enjoys relatively mild seasonal weather and is within a few hours drive of the Atlantic coast and the Smoky Mountains.
For 140 years life and work in Franklinville revolved around the two textile mills located on the banks of the Deep River. With the closing in 1979 of the last textile mill, our town experienced a decline in services, opportunities, and growth. In the last few years however, efforts by many citizens has begun a rejuvenation. Work is proceeding on establishment of a four-mile Deep River Rail Trail for hikers, bikers, and kayakers, and implementation of a Textile Heritage Museum in a portion of the 1838 Franklinville Manufacturing Company mill. Please check back as we provide periodic updates on ongoing activities in our Town.


Dogs Running At-Large: A number of serious incidents have recently occurred in our community due to pet owners not obeying the Town's leash laws. Due to these incidents and our citizen's inability to safely walk town streets without fear of being set upon by loose animals, the Board intends aggressive enforcement of the Town's leash laws. Ordinances having to do with animal enforcement laws are handled for the Town by the Randolph County Health Department. Citizens having animal control problems should call Animal Control at
683-8235.

Franklinville Christmas Parade
Saturday, December 5, 2015 @ 10:30 a.m.
Participants line up between 9:00 - 9:30 a.m.
at the First Baptist Church on Academy

Deep River Rail Trail
(open dawn to dusk, 7 days a week)
(Click here for Directions)
Spring & Fall LitterSweeps – dates TBD

Community Improvement Projects